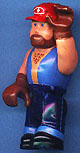 Let's start off by saying that Husky Helpers can be confusing. So gather around and join us for this story about the Life And Times of the Husky Helpers.

Pre-Husky (1971-1977)
In 1975, Fisher Price introduced a series of industrial/earthworking equipment vehicles that were simply called the Construction Trucks Series of toys. These rugged, heavy-duty vehicles, designed for the budding engineer or manual-laborer in the household, were solid, well-constructed items and included the #300 Scoop Loader, the #301 Shovel Digger, #302 Dump Truck, and others. These trucks came with round, peg-based construction figures that look very, very much like the original Little People construction workers except they are about 1-1/2 times larger. These same style figures were used on other sets of same era (#980 ATV Explorer). You can go here to learn all about these style figures.

Husky Helper (1978-1986)
Then, all of a sudden, 1978 rolls around, and guess what happens? Fisher-Price retains the Construction Trucks vehicles (and uses the same model numbers for them!) but changes them ever so slightly to accommodate the newly introduced Husky Helper Series of figures and accessories. The seats on the vehicles were adjusted to accomodate the new Husky Helper figures. These figures have a jointed neck, legs, and arms, and they have hands that grasp. They have a squared chin, broad chest, and big muscular arms. They were simply detailed with dot eyes, solid colored hair, and an occasional moustache here and there until 1983. From 1983 until 1986, when they were discontinued, some of the figures were more detailed with oval-shaped eyes, textured hair, eyebrows, and sometimes even chest hair. See out list of all known Husky Helper sets that were made in order by Model Number.
So this is the story of the Huskies. They are brawny, tough-as-nails, and even though there is not a single female figure (and only two different animals) in the entire line, the Husky Helpers Series of toys are still very desirable, well-built, and certainly contributed their own special charm to the FP product line. Of course, there are a significant number of different Husky Helper male figures; they are most easily distinguished by the color of their shirt. So for your convenience, we have listed them by their shirt color.